I havn't done a nail post in a while so I thought I'd update you all on the most recent nail craze. Stiletto nails.
Originally known as "Rihanna nails" or "Nicki Minaj nails", as they were the first major celebrities to sport them, now it has become the new square. All people seem to want in my salon is stiletto nails. Not plain ones either, the more extravagant the better!
Here's a few pictures of some of my most recent work. You can find more at my
Angel Nails
page (salon fanpage) or my
personal page
.
Simplicity can be everything. Love pink & gold together.
These took me over an hour and half to do. I love the 3D flowers and the colours we used on an almost clear glittery background.
When painting your nails white please ensure you have a professional do it. If it's messy around the cuticles and streaky it looks so tacky like tippex. If you do it properly, it should look clean and bright like
*above*.
She said, "
Bright and sparkles
", with a deep purple glitter on the thumbs..this is what we ended up with, or shall I say "
I
". LOVE!
Matte black with all matte black 3D flowers. Bet you never seen that before ey!
White V tips can elongate the look of the nails. A pearly base underneath for some added healthy shine.
"Racks on racks on racksss" You want bling? But you want nude? OH AND black too! Here you go =)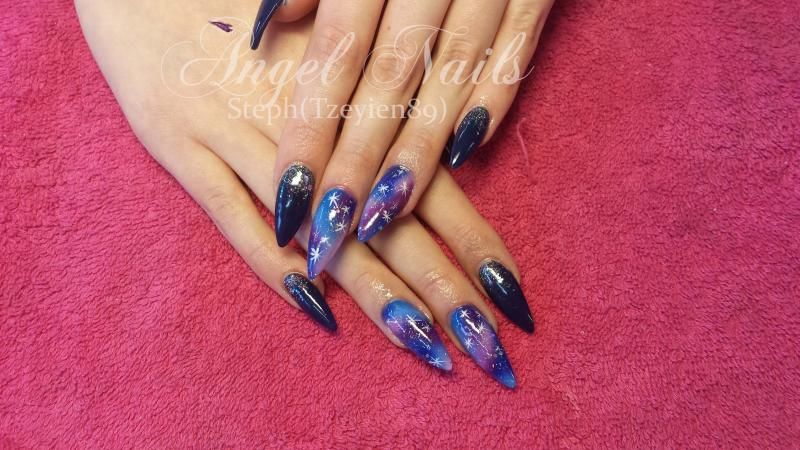 'Take me farrr away into the stars of the sky' These galaxy nails have to been one of my most fave fave favee of 2013, if not, ever! You likeee? ;)
There aren't many colours in this one but DAMNNN did it take me a long time to do, all them hand drawn leopard spots. Hard work pays off hey.
Here's some short pointy ones for y'all. Any shorter than this theres no point having pointy at all. Might as well have stubs. Yes the stripes are all hand drawn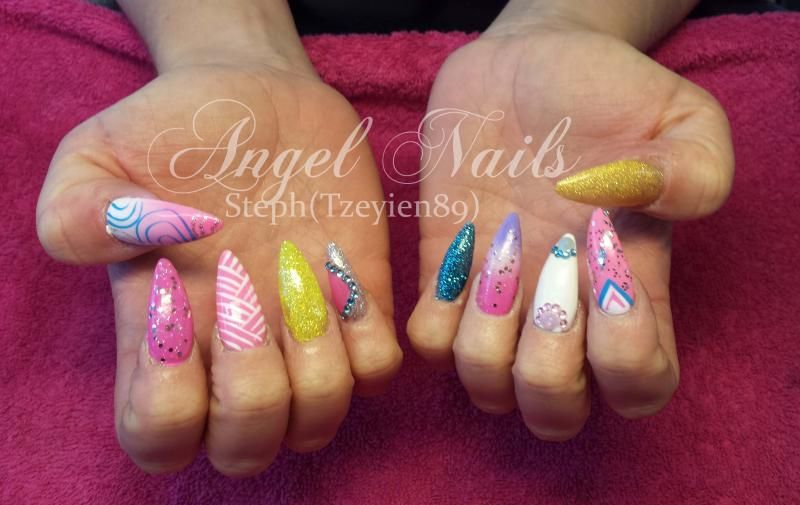 These are screamin' Barbie but with 'modern' in front. A brighter, more universal barbie. A girls best friend, diamonds and glitter.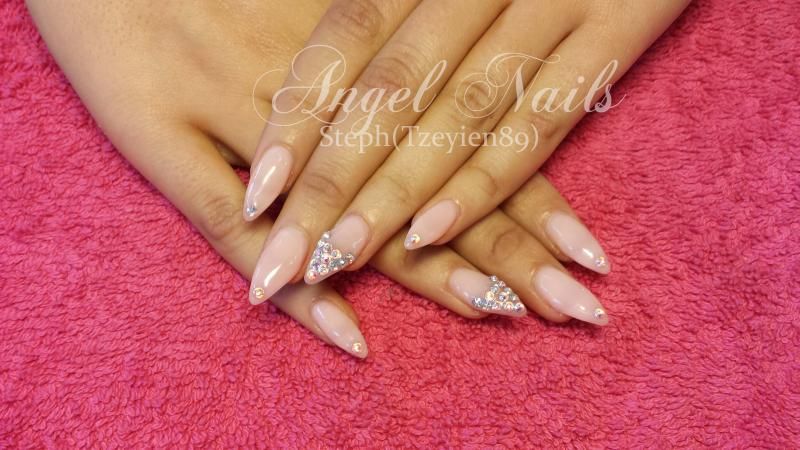 For you more simple girls. Nude pink gel polish (IBD Seashell Pink) and Swarovski crystals (yes! REAL Swarovski scrystals!) Can you think of anything more bling? Missed these badboys blinging under the spotlights of my house =(
Something to overpower them alll! RED! Can't go wrong with pointy and red!
Which ones do you guys like? Remember to like my fanpages if you like my work! =)