As if it's 2014 already! And not only that, it's the end of January....Whhatttt!?! I love seeing monthly/yearly favourites videos, it's a good way to see a collection of great products all at once. So here's mine =)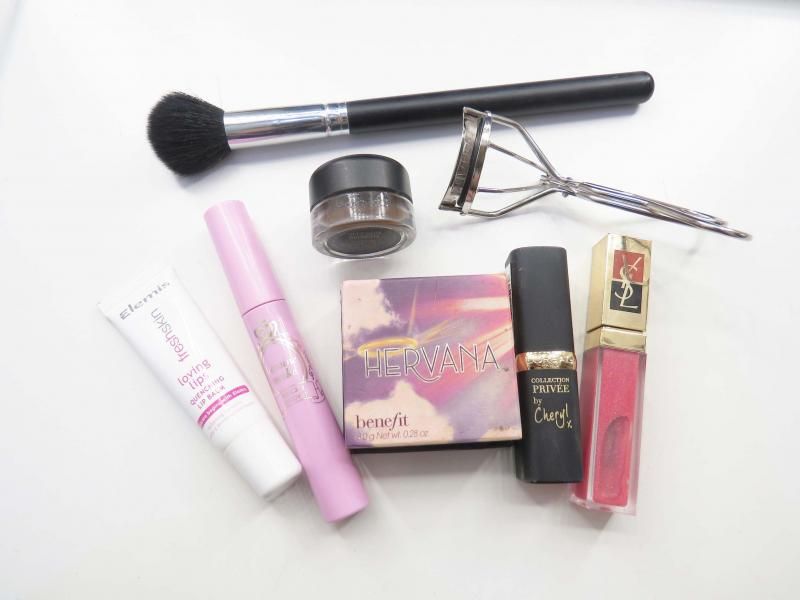 Elemis
Fresh Skin Loving Lips Quenching Lip Balm
- This peppermint lip balm is full of thirst quenching ingredients such as passionflower oil, sweet almond oil, Sunflower seed oil and Vitamin E. It's a squeezy tube with a lightweight clear jelly lip balm that is non sticky and sinks right into the skin. Some products sink into the skin but don't exactly moisturise , this however makes my lips feel soft right away. I can't stop applying this stuff.
Heroin Make
Mascara Remover
- I have done a review on this already
here
. This is my second tube and I am currently loving this as I have tried to wear mascara more than falsies, this helps me get it off without rubbing my eyes too much.
Benefit Hervana Blush
- This was in my
October 2013 favourites
. It seems to come into my cycle every few months. When my skin is ok I like a little flush, when it's not ok I like to use highlight and bronze. Being not much of a blush person this is the perfect light flush I need in the daytime.
Loreal
Collection Privee by Cheryl
- I have also done a review on this lipstick
here
. I have used this on it's own, on top of other colours to nude them out or give them a glossier finish without the use of lipgloss. So creamy, moisturising and inexpensive, a great investment.
YSL
Golden Gloss 40
- Out of all shades I find this the most flattering. It doesn't have too much colour and is great on top of any lip. Its not sticky at all and gives that natural 'wet' glossy look. Some are sticky and look like plastic glossy. Beautiful gloss in a beautiful shade.
Crown Brush
- I got this brush at IMATS last year from Crown, it didn't have a name on it nor can I find it on the website. Such a bum =(. It's very similar to the Mac 169 but smaller slightly and very slightly less dense. I love this brush for contouring it's the perfect size and shape for my face.
Mac
Fluidline Brow GelCreme in Deep Dark Brunette
- This was a purchase I made when Mac had there eyebrow collection out. It's probably the same as a standard as the normal fluidlines. It glides on so smoothly yet it's totally buildable. It can look natural or you can intensify it on a night out. Fallen in love with this baby =)
Shiseido
Eyelash Curlers
- I didn't realise how much I loved these until I got myself the 'oh holy grail raved about' Shu Umera eyelash curlers. Going from using them then going back to these I forget how much I loved these! They do a much better job for my lifeless asian lashes.
What products have you loved this month? Would love to hear your thoughts! x