Updated blog sale items! Constantly getting rid of stuff so please check back!
Conditions of items are shown.
Please leave a comment with which product you would like and provide my your paypal e-mail address for me to invoice you.
Items will be held for 24hours - if you havn't paid within 24hours the item will be up for sale again
UK residents ONLY.
Once payment has been received I will try to post within a couple of days.
I will have proof of postage & I will not be held liable for lost post.
No returns. If you are unsure about the shades please google swatches
Postage will be £2.50 per item and an additional 50p per item (unless it's heavy and therefore will cost more, I will state below if this is the case)
Will consider discounts for multiple items for quick sale.
Postage will be via Royal Mail 2nd Class.
I can post recorded (however this will cost more)
HAPPY SHOPPING!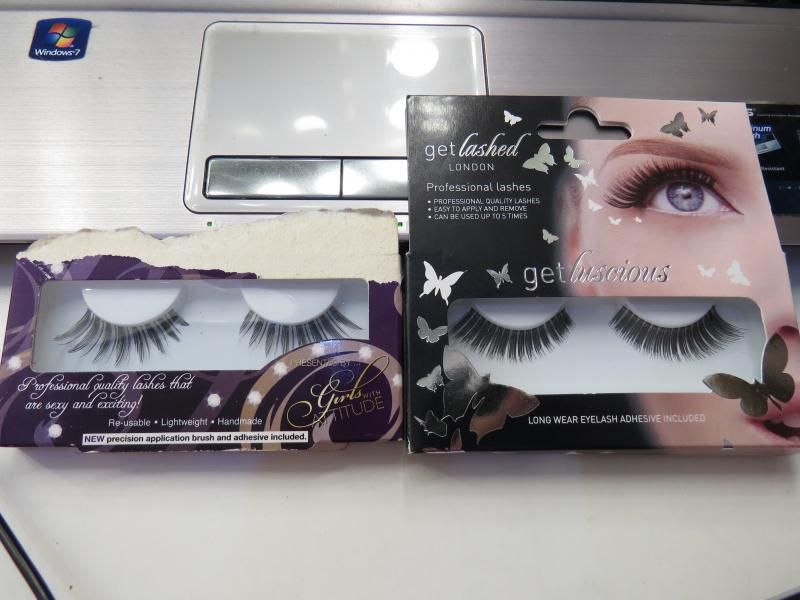 Gurls with Attitude Lashes in Trixi (BRAND NEW just ripped the box for easier storage) -
£3
Get Lashed lashes in Get Luscious (BRAND NEW) -
£5
£5 each or £8 for both
£5
& Safari (right) (swatched 1x - no sponge included) -
£5
13 Lavender Meadow (swatched 1x - only 1 sponge included) -
£3
10 Berry Bloom (swatched 1x - only 1 sponge included) -
£3
17 Gems n Jewels - (swatched 1x - no sponge included) -
£3
20 Sunrise, Sunset (swatched 1x) -
£3
OR All four for £10
£3
20 Turqoise Forever (swatched 1x) -
£3
50 Eternal Silver (BRAND NEW) -
£4
or all 3 for £6
Revlon quad '13 lavender meadow' (swatched 1x) -
£3
(only one sponge tip in box. normally comes with two)
Shiseido Intergrate Lipstick (used 95%) -
£15
NYX Jumbo Lip Pencil (brand new) 701 Rosie Brown -
£2
NYX Jumbo Eye Pencil - 623 Orange
- 614 Lavender
£2
each or
£3 for both
(lids cracked a bit)
GOSH Velvet Touch Eyeliners - Purple Stain & Blue Lagoon (used 80%) -
£3
or
£5 for both
£8
NYX Lipliner 854 Pale Pink (BRAND NEW) -
£1
NYX Lipliner 839 Dolly Pink (BRAND NEW) -
£1
£5
NYX Round Gloss in 08 Doll Pink (swatched 1x) -
£2
NYX Megashine Lipgloss in Nude Peach (swatched 1x) -
£3
NYX Jumbo Lip Pencil 709 Deep Red - (BRAND NEW but lids been crushed in so looks used) -
£1
Nip + Fab Pistachio Body Butter (used 1x) - £2
Nougat London Sparkling Body Shimmer Cherry Blossom
BRAND NEW
- £5
£4
Ciate Paint Pots Raspberry Colling (BRAND NEW) -
£7
Leighton Denny Polish Babydoll (BRAND NEW) -
£8
£7
Misa 252 Krystal Water (BRAND NEW) -
£5
Misa 180 Fatal Affair (used 3x) -
£4
Misa 176 Dying Love (used 2/3x) -
£4
Color Club 922 Noveau Vintage (BRAND NEW) -
£4
Color Club 912 Alias (BRAND NEW) -
£4
£6